Uphill Rush 11
Approved for Ages 6+
Uphill Rush 11 - New fun on the water slide!
Uphill Rush 11 is a fun racing game where this time you can race down any water slide on a cruise ship!
So get in the swim ring! Use the arrow keys to steer over the water and the space bar to accelerate down the various slides. Earn points by doing tricks or overcoming obstacles, but always keep your balance. You'll have different skins for your rider and the swimming device of your choice available for money, which you'll get for passing levels. You'll be able to improve them to make them faster, easier to balance or to get the ability for stronger boosters. Perform the best stunts until you reach the finish pool. Now race through each tunnel and enjoy the cruise of your dreams with the floating water park!
More exciting Uphill Rush games
If you liked Uphill Rush 11, why not play Uphill Rush 10!
Can you complete all the levels with a top score? Find out now and play Uphill Rush 11 free online on KibaGames!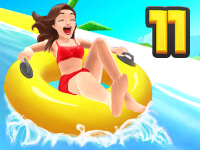 Uphill Rush 11
Originalname:
Game Hits:
0
Online since:
09.
01. 2023
Developer: