Uphill Rush 10
Approved for Ages 6+
Uphill Rush 10 - race through the streets of New York!
Uphill Rush 10 is a new racing game in the popular game series, in which you can race a yellow cab through New York for best times!
Drive the iconic yellow cab and 38 other vehicles through the Big Apple and also unlock a skateboard, a horse and even a hovercraft vehicle! Soon conquer the high score podium and show off your driving skills on Fifth Avenue and Wall Street. The faster you finish, the better, because then you can also win up to three stars in Uphill Rush 10!
How to play Uphill Rush 10
Control with the arrow keys and use the space bar to ignite the turbo. Mobile you can use the buttons on the screen.
Always balance your cars, cabs and horses well before landing after jumps.
Step on the gas again before the loops and use the acceleration booster to get through the loop even faster.
Drive through obstacles like barriers or take pylons with you to collect even more bonus points.
Of course, you shouldn't miss out on the golden coins either.
Tips and tricks for super racers
Perform fast-paced stunts and set a new best time to collect even more coins.
Upgrade your vehicles to become even faster.
You can always increase acceleration, speed, balance and booster ability.
Use your winnings to buy new skins to have even more individual fun in the 20 levels.
Show your driving skills in Manhattan and Brooklyn and play Uphill Rush 10 online for free on KibaGames!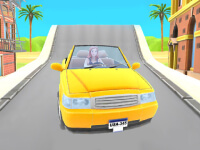 Uphill Rush 10
Originalname:
Game Hits:
0
Online since:
05.
05. 2022
Developer: