Trials Ride 2
Approved for Ages 6+
Trials Ride 2 - Conquer a new course!
Trials Ride 2 is a cool motorcycle game in which you'll be able to ride a motocross bike over a challenging course.
Ride your motorcycle skillfully over ramps, tires and barrels to the level finish! Jump and land safely on your wheels and keep balancing your motorcycle correctly. Use the arrow keys or WASD and the arrows displayed on your smartphone to steer. Make sure you find the right balance. If you go too fast and can't keep your balance, your driver will crash and you'll have to try the level again. If you are too slow, you can get stuck between the obstacles. So make sure you drive at the right speed and complete Trials Ride 2 with flying colors!
More exciting motorcycle games for you
If you liked Trials Ride 2, why not play GP Moto Racing 3?
Can you set a new best time? Master a new track now and play Trials Ride 2 free online on KibaGames!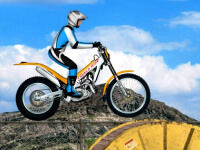 Trials Ride 2
Originalname:
Game Hits:
0
Online since:
16.
03. 2023
Developer: