Tiny Landlord
Approved for all ages
| | | |
| --- | --- | --- |
| Mit dem Mausrad kannst du Hinein- und Herauszoomen. | | |
Tiny Landlord - build your own town!
Tiny Landlord is a comprehensive idle game in which you'll be able to build your own town, manage its sales and satisfy its inhabitants.
Have you always wanted to build and manage your own town? Then Tiny Landlord is the right game for you! Develop larger and larger areas of the town and make the townspeople happy. Interact with them by clicking on them and face fun challenges to increase your karma. Keep building new buildings and unlocking streetscapes that you can also view from your car. Just click on a car, change perspective and drive through your own town!
Play Tiny Landlord with the mouse. You can also use the mouse to zoom in and out of the game from a bird's eye view to see the details better. Sometimes you'll have to keep the big picture, at other moments you should talk directly to your residents or go in search of special items. Tiny Landlord offers so many challenges and opportunities!
How to play Tiny Landlord
Start with a first settlement, for which you build large apartment buildings and a park, and keep unlocking new districts.
Your apartment buildings will automatically earn you money, which you can then invest in further equipment for the district.
You can find this equipment in the "Miscellaneous" menu. Not only street lamps and trees can be found here, but also water and electricity supply or waste disposal and recycling are important for your residents and a pleasant living environment.
Control consumption and production of the area in the statistics menu.
But turnover is not everything. Make sure that your tenants are satisfied and check their needs fixed on the right side of the game with the smiley button. Also in the statistics menu you can see the tenant satisfaction in detail.
Unlock new areas in the city again and again by completely building an area and also equip other properties with buildings and special real estate. You can then build a fire station and a police station, as well as a restaurant or a hair salon.
All of these services are important and some of them also bring in money. The police and fire departments also ensure order and safety.
Use boosters to increase the productivity and turnover of the cities. Building construction takes some time, but can be accelerated in this way. You can also increase the profits that your real estate yields.
With karma you can earn a random booster. You get karma by being nice to residents and giving them money, for example.
More management games with nice game environment
If you like Tiny Landlord, why not play Tropical Merge and colonize a beautiful tropical island.
Become a nice real estate tycoon now and play Tiny Landlord free online on KibaGames!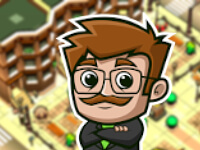 Tiny Landlord
Originalname:
Game Hits:
0
Online since:
09.
08. 2022
Developer: