Timberman
Approved for Ages 6+
Timberman - chop wood like a pro!
The original classic from the App Stores is now available for your PC or smartphone without any download and installation! Since 2014, this retro-style casual arcade game has delighted more than 20 million players worldwide and is sure to get you hooked on chopping wood, too. 
The gameplay in Timberman is simple: you play as a bearded lumberjack in a red flannel shirt and have to chop down trees with your axe. Click right or left to avoid the branches and be as fast as possible, since you only have a limited amount of time per blow. But what sounds simple actually requires a lot of timing and good reflexes. You will receive one point per chopped piece of wood. Try to chop the infinite trees as long as possible to get a good score. However, the further you get, the less time you have, so hurry up!
You can use your collected wood to unlock new characters in the store or exchange it for coins. There are a total of 105 heroes to choose from, using different tools for chopping. Rare or epic characters are only available for coins. Also use the in-game money to buy land in your village, where your characters will be roaming around and which will provide you with extra wood per hour. Once you own all the fields, a new area will be unlocked.  
Tips & Tricks for Timberman
Keep leveling up your Timberman to receive gifts.
Daily missions also give you rewards; the tasks update every few hours.
Also, don't forget to collect your Daily Reward via the calendar icon. On the 7th day you will receive an epic hero.
With each new game round, different trees appear for you to cut down - for example, a cactus in the desert, a palm tree or a cookie tree in the land of milk and honey. So should you happen to be Game Over, you can look forward to a new setting or even continue the game round by watching an advertisement.
Are you ready to channel your inner lumberjack and hack the best score ever? Then play Timberman online for free on KibaGames!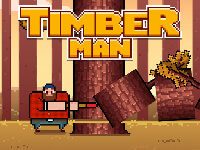 Timberman
Originalname:
Game Hits:
2.594
Online since:
23.
07. 2022
Developer: