Tallman Dunk Rush
Approved for all ages
Tallman Dunk Rush - Size matters!
Tallman Dunk Rush is a fun sports game in which your basketball player can grow taller and taller and shoot baskets on the course in front of him.
Control your character around the course to grow taller and taller, shoot baskets and beat other players. To grow, you must run through the goals that say "Taller" on them. If you run through gates that are labeled "Shorter", your character will get smaller. Also, if you run through arcs that are lower than your figure, it will lose some height. Can you make it to the end of the level? There you can dunk again and collect extra points!
The game is played with the mouse or the finger. Swipe from left to right to control your character. The wrong goal, the one that makes you smaller, is shown in red. Likewise, players or baskets you are not yet up to will be displayed in red. Green goals or game elements, on the other hand, give you an advantage.
More quick minigames for you
If you liked Tallman Dunk Rush, why don't you play Mob Control?
Shoot baskets and play Tallman Dunk Rush free online on KibaGames!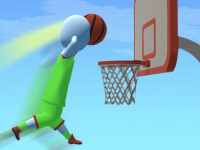 Tallman Dunk Rush
Originalname:
Game Hits:
0
Online since:
24.
04. 2023
Developer: