Stickman Swing
Approved for all ages
Stickman Swing - swing from rope to rope!
Stickman Swing is a cool skill game in which you can swing a stickman from rope to rope to the finish line like Tarzan.
Perform the most daring tricks and let your acrobat fly through the air in Stickman Swing. Use the mouse to control the game and wait for the right moment to cast your nets like Spiderman.
Swing from anchor point to anchor point in Stickman Swing and cross the finish line in no time!
How to play Stickman Swing
Play through all 20 levels with skill and timing, overcoming every wall:
Click the left mouse button to throw the Stickman Rope in the direction of the red ball. As soon as your target hangs on the rope, it will unfold into a real Stickman, which you can keep swinging.
Then let it go at the right moment and swing over any obstacle.
Soon you'll be flying over the finish line and mastering increasingly challenging scenarios in which the right timing is crucial. At the top of the screen, you can see how many percent of the level you have already completed by looking at the progress bar.
Tips and tricks - how to overcome any obstacle
Are you a real acrobat? Use additional tools and overcome any danger.
The spring surfaces will make your red ball rise higher. Green surfaces are especially strong.
Use the laws of gravity and just let the stickman swing again and take more momentum if he is still too slow to overcome a wall. You can also spin around the anchor points.
More free skill games full of action
If you liked Stickman Swing, why not play Spider Swing Manhattan and also check out our game tips.
Experience lots of action and fun now and play Stickman Swing free online on KibaGames!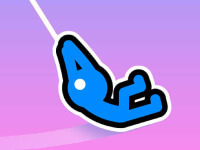 Stickman Swing
Originalname:
Game Hits:
0
Online since:
13.
12. 2018
Developer: