Spider Swing Manhattan
Approved for all ages
Spider Swing Manhattan - swing through the air like Spiderman!
Spider Swing Manhattan is a cool skill game in which you'll be able to shimmy from house to house like Spiderman for as long as possible.
Emulate Peter Parker and show that you can swing through the dangerous urban jungle with great skill like the comic book hero. To do so, use your handy spider threads and throw them out with the mouse or by tapping and hold on to the blue breakpoints on the buildings. Release the mouse button or the screen to keep swinging. New York is also a very cool city with lots of big buildings that invite you to fly between them. But be careful, you should avoid obstacles like air conditioners or fire escapes.
Fly a longer distance through the air with momentum and cover as many meters as possible at once to set a new distance record. How many meters will you be able to fly in Spider Swing Manhattan? If you don't get that far in the beginning, there are endless games open to you to train and develop your superhero skills.
Tip: If you liked Spider Swing Manhattan, why not play Stickman Swing!
Let's go! Start casting your net! Become a spider and play Spider Swing Manhattan free online on KibaGames!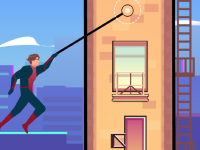 Spider Swing Manhattan
Originalname:
Game Hits:
0
Online since:
09.
08. 2022
Developer: