Stickman Fighter: Mega Brawl
Approved for Ages 12+
Stickman Fighter: Mega Brawl - fight in epic matches!
Stickman Fighter: Mega Brawl is an action-packed fighting game in which you can pit your stickman against other fighters, soldiers and epic bosses.
Use the right and left arrow keys to fight the enemies that appear there. Click or tap to perform simple punches. React quickly and keep turning your Stickman Fighter the right direction to knock back the warriors arriving there. But not only that - kick backwards and forwards like a real karate master!
Upgrade your stickman with new skills and helpful and dangerous weapons like the hammer and the sword. But you can also unlock healing powers and defensive spells, as well as shields and armor with the coins you win. Make sure you don't run out of lives even in the heated fist fights and defeat stronger and stronger opponents. Depending on how well you hit, you'll be able to win up to three stars!
Warm up already and then get into the ring! Box and kick like a real kickboxing champion and play Stickman Fighter: Mega Brawl free online on KibaGames!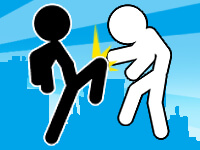 Stickman Fighter: Mega Brawl
Originalname:
Game Hits:
0
Online since:
10.
05. 2022
Developer: