Solitaire Farm: Seasons
Approved for all ages
Solitaire Farm: Seasons - a card game for real farmers!
Solitaire Farm: Seasons is a level-based card game in which you can guide your own farm through the seasons.
Earn more money with each round of solitaire to cultivate your fields and, of course, buy jokers and more cards in the game.
Clear all the cards on the table by clicking on a card that is one value higher or lower than the card in front of the draw pile. If none of the cards are suitable, you can use the draw pile. If this also runs out, you are free to buy new cards or start the level over again.
In higher levels you can also play with jokers and bonus cards and use the fruits of the field to give you an advantage. The watermelon, for example, expels all cards around it from the field. Collect your daily rewards, expand your farm with your winnings, and be entertained once again with Solitaire Farm: Seasons.
Let the cards speak now and play Solitaire Farm: Seasons free online on KibaGames!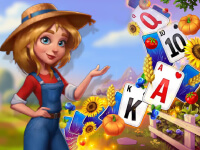 Solitaire Farm: Seasons
Originalname:
Game Hits:
0
Online since:
05.
03. 2022
Developer: