Slope
Approved for all ages
Slope - get the soccer ball rolling!
Slope is an exciting skill game in which you control a soccer ball for as long as possible over a narrow race track full of obstacles.
Set a new high score and make the ball roll as far as possible without getting kicked off the green racetrack! You control with WASD or the arrow keys on your PC or your finger on your smartphone or tablet.
Move the ball left and right to avoid the obstacles that try to stop your run. Dodge flagpoles or foosball figures and don't get thrown off the narrow platform track. On the other hand, if you roll through gates or through loops, you'll get bonus points to improve your high score. Jump points or cannons can also help you move along successfully in Slope. The cannon will shoot you very far, almost over two fields, while catapults will make you jump only one field further.
More soccer games for the World Cup
If you liked Slope, why don't you play Football Master?
And now let's go for the new high score! Rule the track and play Slope free online on KibaGames!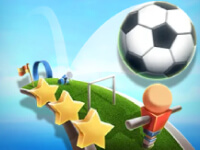 Slope
Originalname:
Game Hits:
138
Online since:
02.
12. 2022
Developer: