Sheep N Sheep
Approved for all ages
Sheep N Sheep - solve new tricky challenges every day!
Sheep N Sheep is a new variant of the popular Match 3 game, where you can play through new challenging levels every day and become part of the sheep herd!
Sheep N Sheep is a new and partly easier variant of "Sheep Sheep!". However, that doesn't mean there isn't an equally challenging mode. In Sheep N Sheep, you can first modify your playing field by choosing a color scheme, which changes the background. Once you have customized your game for you, you can choose between two modes: the normal level mode and a difficult challenge that changes every day.
In the level mode you remove the tiles - here again three of the same motifs are matched. Wild cards are also available: reset the last move, a help to find matching tiles and the unlimited possibility to shuffle the available tiles. Try to finish each level as fast as possible to get the top star rating. Your opponent here is time, so play quickly.
In the daily challenge mode, you can complete one new level per day and only if you manage to complete it, you will be allowed to join the flock of sheep. This mode is similar in difficulty to the hit Chinese game Sheep a Sheep! There is only a limited number of jokers available to you in the hard level in Sheep N Sheep. So you can only reset a move twice, get help to see the next move once and shuffle the tiles only once. Fortunately, you are not under time pressure. Can you remove all the tiles? Only 0.1% of all players make it!
More connection games with high difficulty
If you liked Sheep N Sheep, why not play Sheep Sheep! and find out if you belong to the Match 3 elite!
Leave no stone unturned now, take down a tower full of tiles and play Sheep N Sheep free online on KibaGames!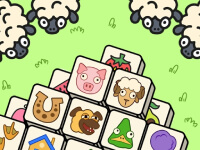 Sheep N Sheep
Originalname:
Game Hits:
0
Online since:
13.
11. 2022
Developer: