Santa Parkour
Approved for all ages
Santa Parkour - Jump from rooftop to rooftop!
Santa Parkour is a Christmas jump and run game where you can jump across rooftops at night with Santa and deliver presents!
Avoid obstacles like chimneys or Christmas trees while on Santa Parkour. Collect coins and try to get as far as possible. On your way through the night you can also collect lots of coins.
Controls: You can play with your finger, mouse or keyboard. Make short or high jumps by pressing the mouse button, the arrow key or the space bar for a short jump or by holding it down for a longer time for a high jump. Estimate the distances and time your jumps accurately, for example, in large gaps with subsequent obstacles on the roofs.
For the collected coins you can buy new gloves, hats, shoes, pants or tops for your Santa. Besides, he can also learn new skills. Every 15 minutes you can open a box that contains cards with skills. If you can get three of a kind, you have to combine them to level them up. Once the abilities have reached level three, your Santa can use them to slide down chimneys. This is important because Santa loses ten coins when he touches obstacles.
More action games for you
If you liked Santa Parkour, why not play Fall Friends?
Will Santa get into each house safely? Run and jump with skill now and play Santa Parkour free online on KibaGames!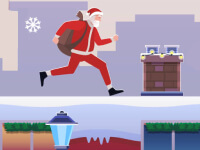 Santa Parkour
Originalname:
Game Hits:
0
Online since:
20.
12. 2022
Developer: