Farm Fun
Approved for all ages
Farm Fun - Sort cute animal pairs!
Farm Fun is a relaxing puzzle game in which you can guide your farm animals into the barn in pairs and merge them.
After a day on the pasture or in the run, the farm animals have to be brought back to the barn. Your task is to push the animals with your mouse or finger so that they make their way into the barn. No other animal should be in the way. You can lead the animals both backwards and forwards out of the fenced area.
In the bar at the bottom, they should then come together in pairs and merge. You may already know the game principle from our parking games, in which cars have to be navigated out of parking spaces in the right order. Like there, in Farm Fun the animals face various obstacles. With a little thought, can you avoid all the hedges, fences and barrels? Don't forget to collect the many gold coins! With them you can buy boosters to master all the challenges in the increasingly difficult levels!
But be careful: The space on the stable bar is limited. So always be careful in which order you send the sheep, pigs and cows there. If it gets too crowded, it's better to send the same type of animal one after the other, because then they merge immediately and leave more space for the following animals.
More puzzle games for relaxing breaks
If you like Farm Fun, why not play Happy Farm Make Water Pipes?
Combine all the animals now, prove yourself in farm management and play Farm Fun free online on KibaGames!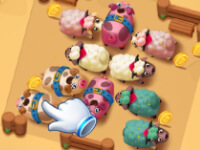 Farm Fun
Originalname:
Game Hits:
0
Online since:
22.
01. 2023
Developer: