Rider Online
Approved for all ages
Rider Online - do the best flips!    
Rider Online is a cool action game for the app of the same name, in which you can do a lot of flips with your fast motorcycle.   
Achieve a particularly good score in this popular hit game by covering as long a distance as possible while doing lots of flips and somersaults. With a bit of skill at the wheel, you'll also be able to master this race on the neon line and collect lots of points with your daring jumps.    
Don't miss the numerous diamonds and avoid the dangerous obstacles. It's better not to crash into the spinning gears, watch out for the track parts that collapse behind you and master the gameplay without any big crashes. Then you'll be able to keep riding in Rider Online indefinitely and do the best double flips!    
Now let's go off-road! Can you set a new high score in Rider Online?   
How to play Rider Online    
You control Rider Online with the mouse or by tapping. Your goal is to set a high score, collect lots of diamonds and soon unlock new vehicles.    
If you keep the left mouse button pressed, you can turn somersaults, which bring you valuable points.
When landing, you have to let go at the right moment so that your motorcycle doesn't roll over.
Although the color of the race track changes in Rider Online, you can always continue to ride a vehicle. Switching to another color is not necessary.
Tips and tricks - unlock new vehicles    
When you have collected enough diamonds, you can unlock new vehicles in the store. 
Make sure your fleet is varied in Rider Online!
For every 1000 diamonds you get new motorcycles - also in purple!
Even unlock two racing cars.
Now get on the track! Collect all the diamonds and play Rider Online for free on Kibagames!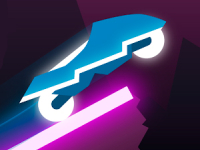 Rider Online
Originalname:
Game Hits:
10.798
Online since:
13.
03. 2018
Developer: