Realistic City Parking
Approved for Ages 6+
Realistic City Parking - Find your parking space in the city!
Realistic City Parking is an exciting parking game in which you'll be able to drive through a city and find a parking space for your car.
Drive through the busy city and find the parking space reserved for you. It will be marked with a red dot in the upper left corner of your map. Now you have to navigate safely and skillfully through the city traffic. Be careful not to hit any other cars or buses, because if you take too much damage, the level is not completed. How much life you have is displayed in the top center under "Health" as a percentage. Maneuver your car through the traffic without taking too much damage and find your parking space. Once you've found it, you'll have to park properly and hold this position for a few seconds.
More exciting parking games
If you liked Realistic City Parking, then play Truck Space and park big trucks.
Can you park correctly in ten levels? Find out now and play Realistic City Parking free online on KibaGames!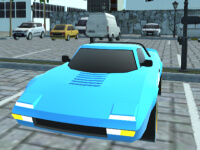 Realistic City Parking
Originalname:
Game Hits:
0
Online since:
20.
04. 2023
Developer: