Rayman's Incrediballs Dodge
Approved for Ages 6+
Rayman's Incrediballs Dodge - Battle Royale with cute monsters!
Rayman's Incrediballs Dodge is a fun multiplayer game in Battle Royal mode, where you fight to be the last one to survive on the field!
In this fun mini-game from the Ubisoft Nano series, you must prove yourself with your Incrediball, a cute monster hatching from an egg, in a constantly shrinking arena. The last survivor wins the match!
How to play Rayman's Incrediballs Dodge
Use the arrow keys to move in all directions and collect five booster objects to gain a temporary advantage.
For example, with the boxing gloves you'll be able to push dangers or your competitors out of the way.
Be sure to also collect the hearts to get more lives and the fireflies and fairies to gain points.
Sometimes you'll even get the chance to clear a whole playfield full of fairies at once. Use them to unlock more than 30 Incrediballs from three classes.
Of course, you should avoid stones, spiked vines and other obstacles. Also watch out for the holes in the ground and don't fall in! Avoid flying projectiles like the fireball!
From time to time, creeping fog will also make it difficult for you to see. This field is full of dangers, but also a lot of chances!
Set your new personal best now and play Rayman's Incrediballs Dodge free online on KibaGames!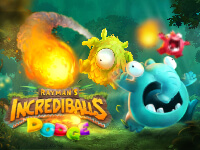 Rayman's Incrediballs Dodge
Originalname:
Game Hits:
5
Online since:
21.
02. 2022
Developer: