Raid Heroes: Total War
Approved for Ages 12+
Raid Heroes: Total War - defend your kingdom!
Raid Heroes: Total War is an exciting fighting game, in which you can defend your kingdom from the dark lord's army.
Get excited by this exciting mix of RPG, strategy game, idle game and medieval fighting game. Complete outstanding quests, use the arena mode where you can PvP against other knights, monsters or fairies, let your army fight in the raid and build a medieval settlement with castle and village. Unlike in the app, you can play Raid Heroes: Total War directly in the browser and don't have to download anything.
How to play Raid Heroes: Total War
Fight with your first knight wave after wave against your opponents and always position your fighters in a strategically favorable position on the field before the battle by using the mouse or by tapping.
Recruit more male and female heroes for your clan by collecting five cards for that character through victories in battles or in the city.
Tactical action is advantageous in a battle situation. Think about the classes of your soldiers when positioning them on the battlefield and build up an advantage over your opponents in this way.
For example, melee fighters such as swordsmen should be placed in front and archers further back, so that they can support the melee fighters and are protected from damage themselves. Then click on Fight and you're ready to go!
As you progress through the game, equip your fighters better and better and upgrade their skills, because the total strength of your squad is added up for battles in Raid Heroes: Total War.
Tips and tricks for king and queen
But where do you actually get the coins to upgrade your troop? Complete daily tasks and get diamonds or money for valuable upgrades in return.
Of course, a successful leader also wants to expand his territory and make it more productive and resilient.
Depending on how many raids you have completed, you can then add buildings to your own kingdom. For example, build a castle for winning three raids or a gold mine for winning 57 raids.
More free strategy games for real commanders
If you liked Raid Heroes: Total War, then play States.io.
Now let's go into battle! Defy all dangers, lead your troops to victory and play Raid Heroes: Total War free online on KibaGames!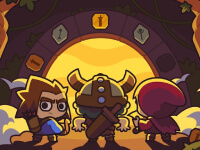 Raid Heroes: Total War
Originalname:
Game Hits:
0
Online since:
26.
09. 2022
Developer: