Racing Go
Approved for Ages 12+
Racing Go - Win at top speed!
Racing Go is an extensive racing game in which you can use numerous different racing modes and cars.
Drive different races and drag races, fight your way through heavy traffic or complete several races in a row in career mode. Behind "Road Mining" is the mode in which you can drive as far as possible over a road with oncoming traffic.
Controls: WASD. With Shift you can ignite the nitro. With ESC you can go back to the main menu.  
Master 100 different missions, in which you will of course be rewarded with prize money for defeating your opponents. Or how about a duel against your best friend?
Unlock new cars in endless mode! Customize and upgrade your fast race cars with your winnings. If you can manage to get over 100km/h fast, you can even win bonus points and extra game money when overtaking in heavy traffic.
More fast car games for you
If you liked Racing Go, why not play Traffic Tour?
Now show what you're capable of behind the wheel and play Racing Go free online on KibaGames!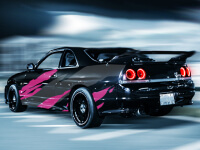 Racing Go
Originalname:
Game Hits:
0
Online since:
15.
12. 2022
Developer: