Traffic Tour
Approved for Ages 12+
Traffic Tour - win new daily events in multiplayer racing!
Traffic Tour is a hot racing game in which you can compete online in multiplayer mode against friends or random opponents and take part in daily events.
You can expect numerous tracks with over 100 missions in a varied game environment. Race in the city, in the evening under the street lights, in the rain or in the desert. With won keys you can also unlock additional effects in Traffic Tour.
Control with WASD and ignite the nitro booster with Shift. Keep unlocking new race cars and upgrades by unlocking blueprints for new cars in Endless Mode and investing your winnings there. 40 cars can be pimped not only technically. Their coloring, paint job, and wheel trim can also be modified.
Master four game modes
Play through four game modes in Traffic Tour: Career, Race, Daily Event, and Road Mining.
In Career mode, there are different levels with different objectives. These must be completed in order to win and earn more money.
"Race" is an online game mode against random opponents or friends. There are three different arenas here, two of which you have to unlock before you can play them. To participate in the races, you have to buy a game stake with your currency.
Daily Event: Here you have the chance to play once a day for a reward that can change every time. Depending on how good you are, you will also get better prizes. Here you play against random opponents. You can even respond to messages with smileys or text bricks.
"Street Mining" is a game mode where you can drive in Free Ride mode, Endless or on Time to keep improving your skills.
More free car games with fast sports cars
If you liked Traffic Tour, why not also play Flying Car Extreme Simulator.
Petrol Heads watch out! Compete with players from all over the world and play Traffic Tour online for free on KibaGames!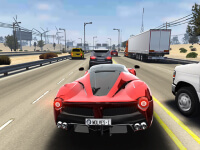 Traffic Tour
Originalname:
Game Hits:
0
Online since:
22.
09. 2022
Developer: