Puzzle Love
Approved for all ages
Puzzle Love - Slide the way for the couple!
Puzzle Love is a cute sliding puzzle game in which you'll be able to reunite a couple in love!
Help the lovers to get back together in this maze by solving the sliding puzzles in different levels.  Use your mouse or your finger to move the different squares so that the two lovers have a clear path and find each other again. Even the game pieces themselves can be moved. The further you get, the harder the levels become, because then you also have to deal with fixed blocks on the playing field that you can't move, or play around nasty opponents. Will you still manage to clear the way? Even skipping a level once in a while is allowed!
More tricky puzzle games for you
If you like Puzzle Love, why not play Beaver's Blocks?
Don't let anything get in the way of the lovers! Clear all obstacles and play Puzzle Love free online on KibaGames!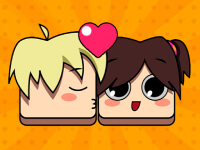 Puzzle Love
Originalname:
Game Hits:
0
Online since:
01.
05. 2023
Developer: