Beaver's Blocks
Approved for all ages
Beaver's Blocks - Crack a new wooden puzzle!
Beaver's Blocks is a fun brain teaser game where you fill a field with lots of wooden blocks.
Beavers love wood and now they even play with it! In Beaver's Blocks, fill the entire playing field with wooden blocks in different shapes. Use your mouse or finger to drag the puzzle pieces across the board. Then place the Tetris shapes in rows and columns of 9 squares or squares of 3 x 3 squares. Try to combine the tile formations in such a way that a row, column or the respective square is completely filled and can thus be dismantled. Collect points in this way for as long as possible and set a new high score! Especially good moves with many combined wooden blocks earn you combo points!
Another tip: When you drag a piece across the field, the spots where you can place it to win points light up.
More sliding puzzles for you
If you liked Beaver's Blocks, why not play Wood Blocks?
Move lots of wooden blocks for the beaver now and play Beaver's Block free online on KibaGames!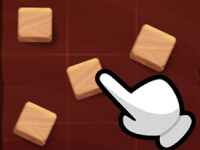 Beaver's Blocks
Originalname:
Game Hits:
0
Online since:
15.
01. 2023
Developer: