Pet Trainer Duel
Approved for all ages
Pet Trainer Duel - Train fat cats!
Pet Trainer Duel is a fun animal game where you can train overweight cats to lose weight!
These cats are quite overweight and desperately need to lose weight to stay healthy! Train the cats and get them back into shape! To do this, you'll need to steer the cats around a course for them to train on. It's best to avoid the coveted treats. Always let them choose the much more strenuous path so that your charges lose weight and weigh less at the end of a level.
Controls: Use A and D or the arrow keys.
For a better training effect, avoid the fish, for example, and let the cats collect water bottles instead. If you see a treadmill, take the one in the opposite direction. Let your cat climb over other obstacles and hope that it doesn't collapse on a frozen water surface.
In Pet Trainer Duel you can also compete against a friend in split screen. Which cat is particularly sporty at the end and has lost more weight? The scales will show!
More fun animal games
If you liked Pet Trainer Duel, why not play Animal Jump?
Take care of your pets' health now and play Pet Trainer Duel free online on KibaGames!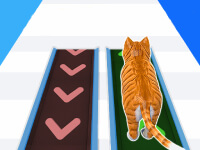 Pet Trainer Duel
Originalname:
Game Hits:
0
Online since:
19.
01. 2023
Developer: