Pet Healer Vet Hospital
Approved for all ages
Pet Healer Vet Hospital - Treat animal patients!
Pet Healer Vet Hospital is a cute management game in which you, as a veterinarian, set up a hospital for animals to help sick pets!
Concerned pet owners bring their pets to you and you have to help them as a veterinarian in your animal hospital. Play with the mouse or your finger.
Carry the sick animals to the examination table and fetch the remedies and medicines shown in the speech bubble. When the animals are healthy and happy again, the owners are happy too and pay you for your work. With the money you can unlock more examination tables and later hire more vets to help you with your work. This is how your clinic gets bigger and bigger. You can also use the money to improve the characteristics of your doctors, so that they can run faster or carry more weight, for example.
More doctor games for you
If you liked Pet Healer Vet Hospital, you should also try Healing Rush.
Sometimes even the strongest dog or bravest cat needs a doctor! Treat your animal patients now and play Pet Healer Vet Hospital free online on KibaGames!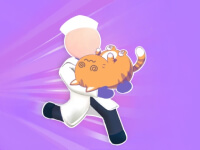 Pet Healer Vet Hospital
Originalname:
Game Hits:
0
Online since:
28.
02. 2023
Developer: