Healing Rush
Approved for Ages 6+
Healing Rush - manage a successful hospital!
Healing Rush is an exciting management game in which you can manage a hospital as a doctor.
New patients keep coming to the emergency room and you have to treat them. Use the arrow controls in the game with the mouse or by tapping and swiping. Carry the patients to their beds and get the necessary medicine at the medicine counter. Keep unlocking new treatment beds and hiring more medical staff to make the hospital run even more efficiently.
You can also earn new rooms for treating special diseases, such as Corona or a surgical ward. Complete your daily quests in Healing Rush with skill and set the right priorities. Emergency patients need your special attention and are marked with a red siren above their heads.
Heal all your patients now and play Healing Rush free online on KibaGames!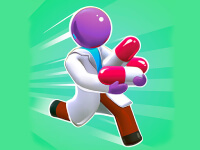 Healing Rush
Originalname:
Game Hits:
0
Online since:
16.
05. 2022
Developer: