Peet A Lock
Approved for all ages
Peet A Lock - Find a toilet fast!
Peet A Lock is a fun reaction game where you can help little Peet go to the toilet!
Peet has to go to the bathroom and it's urgent! Help Peet relieve himself and unlock a toilet for him by clicking or tapping on the colored areas of the lock in front of you. The further you get, the longer Stickman will have to run to open the toilet door. Then use your mouse or finger to click more and more colored areas before you reach the checkered target area. If you click too late or too early, Peet will have a mishap. In Peet A Lock, quick reflexes are needed to avoid too many poop piles landing on the floor!
More reaction games with a funny twist
If you liked Peet A Lock, why not try Bottle Flip?
Can you reach the toilet bowl before Peet shits his pants? Don't miss this new lockpicking game and play Peet A Lock free online on KibaGames!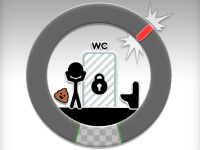 Peet A Lock
Originalname:
Game Hits:
0
Online since:
01.
04. 2023
Developer: