Obby Blox Parkour
Approved for Ages 6+
Obby Blox Parkour - fun for Roblox fans!
Obby Blox Parkour is an exciting jump and run game in which you can jump over rainbow-coloured plates and obstacles for as long as possible!
Run and jump over the rainbow-coloured plates, which vary in distance, height and shape. How many levels can you complete? Similar to Roblox Parkour, the levels seem endless, but there are checkpoints where you can restart if you fail a jump. Play with the keyboard or your fingers and overcome all obstacles!
WASD: Move
Spacebar: Jump
Arrow keys: Camera zoom
You can restart by pressing any key.
More cool jump'n'run games
If you liked Obby Blox Parkour, you should also try Noob Torch Flip 2D.
Take the challenge and play Obby Blox Parkour free online on KibaGames!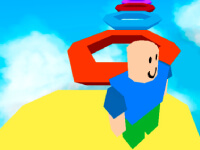 Obby Blox Parkour
Originalname:
Game Hits:
0
Online since:
20.
02. 2023
Developer: