Noob Torch Flip 2D
Approved for all ages
Noob Torch Flip 2D - Use somersaults to reach the finish line!
Noob Torch Flip 2D is a mixture of Bottleflip Challenge and Noob vs Pro in a Minecraft look, in which you have to perform countless dizzying flips. You play as a small noob torch that makes its way through levels full of danger and must not go out.  
Overcome obstacles, trenches and underground lava lakes while watching out for traps that will extinguish your torch. Jump into a lorry in a cave, race through tunnels and try to reach the goal with a mixture of single and double jumps. A total of 50 levels with different zones such as forest, stone, desert or even outer space demand everything from your reflexes, because as the level increases, the challenges also become more difficult.
How to play Noob Torch Flip 2D
Tap the screen or click the left mouse button to make your torch jump once. To double jump, click or tap twice in quick succession. As soon as you touch an obstacle or walls, the game is over. Therefore, plan your flips carefully and either single or double flip to cover the appropriate distance and overcome obstacles. 
Collect coins along the way, which you can use to unlock more cool torch skins in the shop.
Are you a noob or a pro and manage to complete all 50 levels? Use your brains and good timing to jump your way to the finish line and play Noob Torch Flip 2D free online on KibaGames!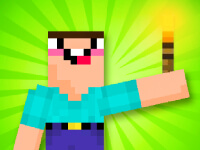 Noob Torch Flip 2D
Originalname:
Game Hits:
0
Online since:
18.
07. 2022
Developer: