Numbers Crossed
Approved for all ages
Numbers Crossed - A crossword puzzle with numbers!
Numbers Crossed is an exciting mix of crossword and number game, in which you can completely fill a grid with the matching number blocks.
Fill the grid completely with the number blocks. The faster you do it, the more stars you get. Face the daily challenges and play with your mouse or fingers by tapping and swiping. Like a crossword puzzle, the number blocks overlap in one or more places and you have to find the right position for the number rows based on these overlaps. If you place a block incorrectly, you can tap on it and remove it from the board.
Play through many levels in Numbers Crossed with varying difficulty levels and grid sizes - there's something for everyone here, whether you're a math whiz or a beginner! If you get stuck, you can use a hint. For solved levels you get diamonds, which you can use to buy new clues.
More math games to puzzle with
If you liked Numbers Crossed, then try Stacktris 2048!
Get your grey cells going again and play Numbers Crossed online for free on KibaGames!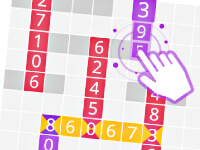 Numbers Crossed
Originalname:
Game Hits:
0
Online since:
22.
05. 2023
Developer: