Stacktris 2048
Approved for all ages
Stacktris 2048 - Merge colorful blocks!
Stacktris 2048 is an exciting mix of skill and brain game in which you can merge number blocks to reach a new high score!
Stack and merge blocks with the same numbers on a tower in 3D and add them up from 2, 4, 8, 16, 32, 64 to 2048 according to the well-known game principle of 2048 and Tetris. For each combination you get points for your highscore.
The game is played with the mouse or by tapping and swiping. React quickly and turn the tower so that the falling blocks fall in the right place. Click or tap to place them directly and speed up the game.
You get extra points for reaching milestones, and combinations earn you gem currency that you can use to buy power-ups:
The multicolor block merges with every other block.
The bomb blows away a block under it.
The Electro Block erases all blocks in a vertical stack.
Depending on the score you achieve, you also receive gem currency at the end of a game round, which you can then use directly in your favor in a new round of Stacktris 2048.
More math games for clever minds
If you like Stacktris 2048, why not play the original 2048 or Train 2048?
Puzzle your way to a new high score and play Stacktris 2048 free online on KibaGames!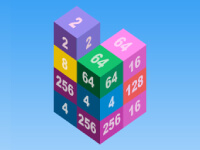 Stacktris 2048
Originalname:
Game Hits:
0
Online since:
12.
05. 2023
Developer: