New Daily Sudoku
Approved for all ages
New Daily Sudoku - new puzzles every day!
New Daily Sudoku is a new Sudoku game where you can play through new puzzles in different difficulty levels every day.
Every day new challenges are waiting for you in the difficulty levels Easy, Medium and Hard.
Try to fill a 9×9 grid with digits so that each column, each row, and each of the nine 3×3 subgrids that make up the grid contains all the digits from 1 to 9.
Click on the cell you want to fill in, and then select the number on the right that you think is correct there. If this is not correct, the game will show you by means of a red dot that the number is already set and cannot appear there anymore. Then use the eraser to delete the number or choose another number. If you get completely lost, you can reset your progress and start all over again.
If the New Daily Sudoku is too difficult for you or you just don't know what to do, you can also use hints. You can display the correct solution for one cell or for the whole puzzle. But then the whole puzzle fun is over!
If you have solved the daily puzzle, you can click on the date above and see a Sudoku from a previous day. Or you can change the difficulty level. There are many possibilities for Sudoku fans!
Another tip: If you prefer analog, you can print out the puzzle and solve it on paper.
More interesting Sudokus for you
If you like New Daily Sudoku, why not play Sudoku Classic?
Sort the numbers in the right place, solve a new puzzle every day and play New Daily Sudoku free online on KibaGames!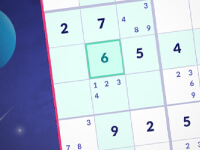 New Daily Sudoku
Originalname:
Game Hits:
0
Online since:
24.
12. 2022
Developer: