Neon Swing
Approved for all ages
Neon Swing - Swing your way to a new high score!
Neon Swing is a fast paced skill game where you swing a stick figure as far as you can away from a red wall.
Use your finger or mouse and click to make your stick figure fly and hang onto a new hook with a rope. Hold the button down to swing and release it to make the stick figure jump further forward. Sometimes the yellow trampoline slabs will get in your way. If you collide with them, your character will bounce off and can be thrown down or backwards. In doing so, it can hit the back red wall or the red floor, which means the end of this game round. So watch carefully and react at the right moment to fly through the air like Spiderman for as long as possible in Neon Swing and set a new high score.
More challenging action games
If you liked Neon Swing, then swing through the air in Stickman Swing!
Don't miss out on the new fun in the trendy neon look and play Neon Swing free online on KibaGames!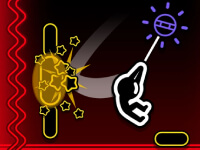 Neon Swing
Originalname:
Game Hits:
0
Online since:
27.
02. 2023
Developer: