Mr. Bean Solitaire Adventures
Approved for all ages
Mr. Bean Solitaire Adventures- travel around the USA playing cards!
Mr. Bean Solitaire Adventures is a fun card game that lets you travel across the USA with the famous English comedy character.
Mr. Bean has fallen off a bridge onto a ship in his green and black Mini and quickly finds himself in New York Harbor. Take advantage of the clumsy Englishman's accident and explore large parts of the USA with him. Play through many solitaire levels and travel through Honolulu, San Francisco, New Orleans and many other beautiful cities and towns on the American continent.
How to play Mr. Bean Solitaire Adventures
Clear the decks by always clicking on a card that is one higher or one lower in value than the face-up card on the pile below. If there is no suitable card on the board, you can use the draw pile or buy a wild card, which serves as a joker. You can then place any card that is on the board on top of it.
Tips and tricks for a long journey
Mr. Bean's travel fund should be well-filled so that he can visit many places and you can play cards eagerly.
If you ever want to take back a move, you can do that for 50 coins as well.
Earn your money with good moves, especially long sequences of cards without redrawing or by cracking the piggy bank.
You can also exchange the stars collected in the suitcase for completed levels for coins in Mr. Bean Solitaire Adventures.
Unlock cards on the board and also discover the many special tasks and options.
Especially cute: the jack in Mr. Bean Solitaire Adventures is represented by the famous teddy bear that always accompanies Mr. Bean, and the queen bears the features of his girlfriend Irma Gobb. Mr. Bean himself, of course, represents the king.
More solitaire games with interesting game environments
If you liked Mr. Bean Solitaire Adventures, try Solitaire Garden and Moorhuhn Solitaire.
Experience a lot of fun with the funny Englishman and his friends and play Mr. Bean Solitaire Adventures free online on KibaGames!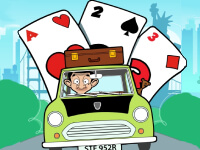 Mr. Bean Solitaire Adventures
Originalname:
Game Hits:
0
Online since:
11.
06. 2022
Developer: