Mine Blocks
Approved for Ages 6+
Mine Blocks - create new pixel worlds in 2D!
Mine Blocks is an exciting Minecraft game in which you can create your own world from numerous pixel blocks.
Similar to the original Minecraft, in Mine Blocks you can explore an entire world, mine lots of blocks and resources with your pickaxe and other tools, and then reassemble them.
Move your character through the 2D world with WASD and use the mouse by clicking and holding to mine up to 200 different blocks. Control them and easily hack them out of the landscape. Use the control key to view your inventory and select these useful contents to build yourself new tools and new objects.
Create a new world according to your own ideas and play in single player or creative mode. Not only that, but numerous animals and other wild creatures bring plenty of action and adventure to this richly detailed strategy game. Ride your pigs or fight mighty dragons - there are no limits to your imagination!
Now swing your shovel and pickaxe again and play Mine Blocks in HTML5 free online on Kibagames!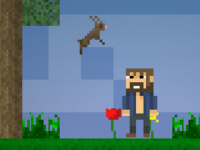 Mine Blocks
Originalname:
Game Hits:
231
Online since:
10.
12. 2021
Developer: