Meow Meow Life
Approved for all ages
Meow Meow Life - take care of a cute cat!
Meow Meow Life is a fun animal game in which you'll be able to take care of a cute cat and take care of its needs.
Such a pet can be a good friend to you, which of course you have to feed and take care of appropriately. But you shouldn't miss out on playing with it and petting it, either.
Take care of a cute kitten in Meow Meow Life and play through different levels in the simulation, in which you'll be able to unlock new items.
Your tasks include buying food and feeding it, bathing it, playing with it, petting it, letting it sleep and many more actions.Play minigames like 2048 or Link Mahjong with cats, catch mice, use a scratching board or play with the ball. You can also visit a cat friend and clean up there. Like a Tamagotchi, you can take care of your virtual cat and get XP and Meow coins for it. The goggle cat on the bottom left gives you tasks and rewards, so just give it a click. With the earned play money you can buy more food and medicine.
More exciting kids games for you
If you liked Meow Meow Life, then play Pou and take care of the little brown blob.
If a real pet is still too much responsibility for you, you can practice here without any risk! Play Meow Meow Life free online on KibaGames!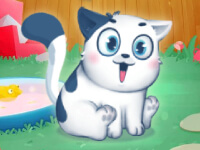 Meow Meow Life
Originalname:
Game Hits:
0
Online since:
04.
11. 2022
Developer: