Pou - take care of the little brown alien!
Pou is a fun kids game in which you can raise the little alien like a pet, feed him and entertain him with cute mini-games.
Pou, the original, is brand new to Earth! Interact with Pou with the mouse or by tapping and swiping and use different rooms like bedroom, kitchen or garden and raise Pou from a little baby to an adult.
How to play Pou
Use different rooms to fulfill Pou's needs.
Wash and care for the little brown alien in the bathroom and then dress him up in a fun outfit.
In the closet you'll find a large selection of pants, dresses, costumes, hats and other accessories to make Pou completely unique.
If you don't like his basic color, you can easily paint the little brown pile red, green or blue. There are no limits to your imagination!
In the fridge there is lots of delicious food and drinks for Pou.
In the garden you can grow flowers or play with the hamster - fun makes Pou happy.
Tips and tricks for a happy Pou
In the style of a Tamagotchi, Pou not only wants to be fed regularly but also properly entertained. Keep all stats like hunger, health and fun as high as possible.
Entertain him via the button with the controller icon, play numerous mini-games and collect experience points to level up Pou.
Play daily missions and unlock achievements and special items to create new looks for Pou. This way, Pou will love his new home on Earth!
Don't miss this classic online game and play Pou free online on KibaGames!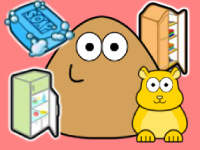 Pou
Originalname:
Game Hits:
622
Online since:
19.
11. 2021
Developer: