Mahjong 3D Candy
Approved for all ages
Mahjong 3D Candy - Make cute pairs!
Mahjong 3D Candy is a modern mahjong game in which you can remove 3D squares with numerous candies!
Play Mahjong with 3D squares instead of a classic board and clear all the tiles within the time limit! Again, tiles with two neighbors cannot be mined. This is also shown to you, because if you touch a tile with your mouse or finger that you can't use yet, it will light up red. Rotate the cube with the 3D candy motifs and click on two border stones with the same motif to clear them. You can also shuffle or get help and have a tile removed automatically. So clear the whole tower and enjoy a carefree time in numerous levels of Mahjong 3D Candy!
More exciting board games for you
If you like Mahjong 3D Candy, why not try Mahjong Kitchen or Microsoft Mahjong?
Enjoy sweet entertainment for casual players and play Mahjong 3D Candy online for free on KibaGames!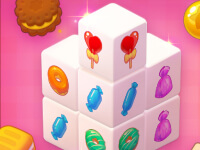 Mahjong 3D Candy
Originalname:
Game Hits:
0
Online since:
29.
04. 2023
Developer: