Mahjong Kitchen
Approved for all ages
Mahjong Kitchen - Fill a cookbook with recipes!
Mahjong Kitchen is a fun mahjong game about cooking and restaurants.
Discover recipes for drinks or food and successfully collect the right ingredients to earn money and unlock new recipes. How about an orange juice or a delicious raspberry spritzer? When you have learned enough recipes, you can take orders in your restaurant. In the next level you'll have to find the fruits or ingredients you need for the drink or dish from the order. Collect all the fruits and mix the ordered juice, for example, to earn more money and make your customers happy. This way you can unlock more and more recipes for drinks, soups, salads and main dishes and thus levels and lead your restaurant to success.
The game is played with the mouse or the finger. Click on the matching pairs of stones to remove them. Remember that in Mahjong you can only combine exposed tiles. If they still have adjacent tiles, you can't use them yet. During the levels you have jokers at your disposal. Use the whisk to mix the tiles on the squares, the match to highlight a pair or the light bulb to indicate the possible moves.
More Mahjong games with delicious food
If you liked Mahjong Kitchen, you should also try Solitaire Mahjong Farm.
Now fill all the pages of your cookbook, conquer the kitchen and play Mahjong Kitchen free online on KibaGames!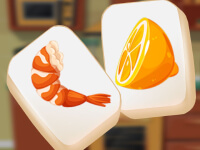 Mahjong Kitchen
Originalname:
Game Hits:
0
Online since:
23.
04. 2023
Developer: