Ludo Fever
Approved for all ages
Ludo Fever - play the classic board game online!
Ludo Fever is a classic board game where you can play against the computer or family and friends and let the dices roll.
Play alone or in multiplayer and roll the dice to move your pieces around the board. Surely you already know the classic parlor game and you know that you want to move all your pieces to the square in the middle of the board without your teammates kicking them out in between. If they get on the same board as you, they can send your piece back to the start in Ludo Fever. Then it's "Ludo Fever!" So quickly circle the entire board four times and kick your opponents out before they beat you to it.
You can put a piece into play after rolling a six. If you succeed in doing this while moving your hats across the board, you may roll the dice again.
Is the luck of the dice with you today? Find out, roll the dice and play Ludo Fever online for free at KibaGames!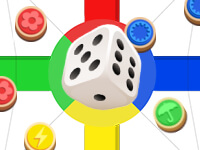 Ludo Fever
Originalname:
Game Hits:
0
Online since:
06.
06. 2022
Developer: