Into Space 2
Approved for all ages
Into Space 2 - fly all the way to Mars!
Into Space 2 is an exciting action game in which you can make a rocket fly further and further into space, all the way to Mars!
Make your rocket fly a bit further into space after each launch, collecting money and fuel along the way. Upgrade your craft so that it can fly even further into space the next time and collect better and better equipment. Improve your steering and increase your speed and propulsion power to reach your goals. Also, take advantage of all the other aids you'll find in Into Space 2. Speed gates, for example, give you an extra boost of a few seconds. Missions and challenges add more money to your cashbox for upgrades. If you don't want to accept them, you can also use coins for skipping. This will give you the items you won, but not the mission bonus.
How to play Into Space 2
Use A and D to control the rocket and S to disable the engine. With W you can use the booster. If you want, you can also play with the arrow keys.
Why should you turn off the engine at all? This way you can fly maneuvers that are useful in special situations.
Astronauts beware, exciting missions await you! Put on your spacesuit now and play Into Space 2 free online on KibaGames!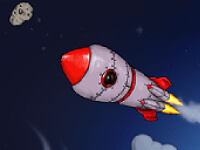 Into Space 2
Originalname:
Game Hits:
68
Online since:
19.
02. 2022
Developer: