Insect Exploration
Approved for all ages
Insect Exploration - fun games with snails and bugs!
Insect Exploration is a fun brain game in which you can make insects collect numerous stars!
Solve big puzzles with very small animals in Insect Exploration! Are you interested in insects like spiders, grasshoppers or snails? Then you will love this game!
Guide the insects through the maze to a star field and collect the golden stars. Be aware that you only have a limited number of moves. Each animal has a different way of moving. The snail is slow and can only crawl forward one square at a time, while a spider, for example, can run the entire distance. But be careful, spiders sometimes overshoot the playing field and must be stopped by another insect to land on the star field. So always think carefully about which insect you move, when and how. Use your finger or the mouse for this.
More exciting brain games with animals
If you liked Insect Exploration, why not play Cat Lovescapes?
Let the creepy-crawlies go now and play Insect Exploration free online on KibaGames!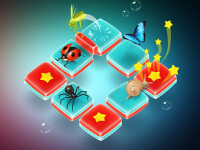 Insect Exploration
Originalname:
Game Hits:
0
Online since:
17.
04. 2023
Developer: