Cat Lovescapes
Approved for all ages
Cat Lovescapes - Cat loves cat!
Cat Lovescapes is a cute point and click game in which you show a cat the way to his lady of the heart.
As a cat amor, you help a tomcat find the way to his animal lady of the heart. To do this, interact with various objects in a flat and search each room. In this way, the black tomcat can approach the pretty white cat from room to room. Other cats will get in his way as well as the elderly owner of the six kittens. So find ways to distract the others with the help of the furniture. Use food or toys, for example. If you don't manage to escape the other cats, you can play the level again from the beginning.
More romantic love games
If you liked Cat Lovescapes, why not try Help The Couple?
Take on the perspective of a cat in love and play Cat Lovescapes free online on KibaGames!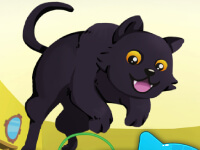 Cat Lovescapes
Originalname:
Game Hits:
0
Online since:
25.
02. 2023
Developer: