Idle Miner Space Rush
Approved for Ages 6+
Idle Miner Space Rush - collect the most moonstones!
Idle Miner Space Rush is an exciting multiplayer game from Ubisoft Nano in which you race against time to mine more moonstones than the other seven players in the round.
Use the arrow keys to control and dig through the moon's surface to mine the shiny moonstones. When your bag is full, you'll have to return to one of your base stations, which you can also unlock during your digs. There you'll receive cash to buy more upgrades. Upgrade the "digging", "mining" features and your bag to give you an advantage over your competitors in mining.
At the end of each round you will receive reward coins and XP. With the coins you can buy better and other skins in the store, such as spacesuits and heads. As you level up, you can even unlock new skins!
More free mining games
If you liked Idle Miner Space Rush, then play Gold Rush or Gold Miner Tom.
Can you beat your fellow miners and top the high score list? Collect the most moon rocks now and play Idle Miner Space Rush free online on KibaGames!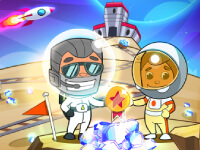 Idle Miner Space Rush
Originalname:
Game Hits:
0
Online since:
14.
11. 2022
Developer: