Idle Mine & Merge
Approved for all ages
Idle Mine & Merge - Dig and fight!
Idle Mine & Merge is an exciting idle game in which you'll be able to mine and fight against the competition during the day.
In this idle game you have to mine on the one hand and on the other hand you have to fight against imaginative opponents and bosses. Buddle and fight your way through the earth to earn game money and keep improving your tools and weapons. For fighting you get gold coins for which you can buy your tools. You can put two of the same tools together to get a better one, for example a bigger shovel or pickaxe. For mining the earth you get earth, which in turn you can use to forge new weapons. You can also merge the same weapons into stronger and stronger ones. Because your opponents also become more powerful and you have to face them with especially effective equipment and strong weapons.
More Idle Games for you
If you liked Idle Mine & Merge, then play Idle Island.
Dig, fight and think strategically! Play Idle Mine & Merge online for free on KibaGames!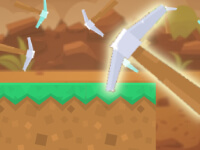 Idle Mine & Merge
Originalname:
Game Hits:
0
Online since:
15.
05. 2023
Developer: