Idle Island
Approved for Ages 12+
Idle Island - Colonize a new island and save the princess!
Idle Island is a new action game in which you can colonize an island and fight against nasty enemies!
A planned, relaxing trip with your sweetheart turns out quite differently than planned. Arriving on the island, you are attacked by villains and your beloved is stolen. How can you get her back? Colonize the archipelago and find the robbers' hideout! Luckily, your Stickman gets back up from the ground and must now gather resources and revitalize the island by building huts and hiring workers to automatically clear trees or mine rocks. Control your Stickman with the mouse, WASD or arrow keys, or with the touch screen.
After a while you can continue to explore and colonize the island. Weapons and tools can be upgraded over time for money. You earn game money by defeating enemies or by selling resources. Also, more parts of the island are unlocked by using resources to build a bridge, for example. Can you save your princess and escape from the island?
More exciting online games for enthusiastic lumberjacks
If you liked Idle Island, why not play Cut 3D and build great wooden huts!
Experience new adventures, swing your pickaxe and axe and play Idle Island free online on KibaGames!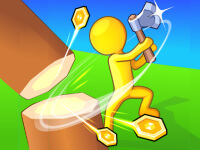 Idle Island
Originalname:
Game Hits:
0
Online since:
21.
03. 2023
Developer: