Idle Island: Build And Survive
Approved for Ages 6+
Idle Island: Build And Survive - Survive on the island!
Idle Island: Build And Survive is an exciting idle survival game in which your task is to colonize islands. Explore the environment, mine resources, fight enemies and gradually build a new home!
After a tsunami destroys your home, you wake up as a castaway named "Groot" on an unknown island. The first thing you need is fire, building material in the form of wood and a place to store it. Cut down forest areas to be able to construct buildings and expand your new settlement bit by bit to create a new home for you and other survivors. Of course, you're not alone on the island - dangerous wood demons lurk everywhere, and they especially like to attack at night. Fortunately, you'll quickly find new friends to help you on your adventure and unlock new abilities.
Survival tips for islanders
To survive, you need not only wood, but also food. In the beginning, collect mushrooms to satisfy your hunger. Later you can also construct buildings that will give you food.
When you find rare ores, you can mine them by quickly clicking or tapping.
In the center of your new settlement is a mysterious totem. Defend it against the demons, otherwise your productivity will drop. If they turn you or your friends into pigs, only fast clicking will help to break the spell. What do you think will happen if you keep improving the totem?
More free Idle Games for you
If you liked Idle Island: Build And Survive, why not prove your survival skills on the high seas in idle and clicker games like Idle Arks: Sail and Build?
Are you a true survivor and can you manage to colonize all the islands? Embark on an exciting adventure now and play Idle Island: Build And Survive free online on KibaGames!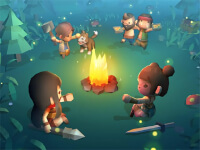 Idle Island: Build And Survive
Originalname:
Game Hits:
0
Online since:
14.
04. 2023
Developer: