Cut 3D
Approved for all ages
Cut 3D - Build wooden huts!
Cut 3D is an exciting simulation game in which you'll be able to process wood and build trendy wooden houses out of it!
As a woodcutter, process your building material and prepare everything to build different huts and design their surroundings. At the beginning you'll cut down a tree and work on it. After you cut it down, the branches and the bark have to be removed. After that, the tree is chopped into small pieces. You have to distinguish usable from unusable pieces of wood. Everything is explained to you on the screen, so follow the instructions with your mouse or finger. All the processing steps are small mini-games that you have to play through until you can build a nice, cozy wooden hut with the collected wood.
More interesting games with woodcutters
If you liked Cut 3D, then swing the axe in Crowd Lumberjack!
Now let's go to the forest! Show your skills as a lumberjack and your woodworking skills and play Cut 3D free online on KibaGames!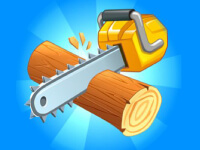 Cut 3D
Originalname:
Game Hits:
34
Online since:
14.
03. 2023
Developer: