Idle Beauty Salon Tycoon
Approved for all ages
Idle Beauty Salon Tycoon - Sell cosmetics successfully!
Idle Beauty Salon Tycoon is an exciting idle game in which you'll be able to manage your own beauty store!
Build your own beauty salon empire and start by setting up a makeup mirror and a display in your store where you can place makeup products. Always make sure that you have enough money available and regularly get new goods from the store. You can see how much money you have in the top left corner.
Gradually, customers will come to your store and take makeup products from the shelves. Some of them need advice. Go to them and answer the question if the make-up looks good on them. Is this lipstick a hit and does the blush match the skin tone? Occasionally, there will be smudges in the running store that you'll have to clean up. Customers who are happy and have their makeup done or want to buy products right away go to the cash register. Go to them to collect the money. With your profits you'll be able to expand your store and attract even more customers with additional sales areas and products.
More free management games
If you liked Idle Beauty Salon Tycoon, why not play Pet Healer Vet Hospital?
Become a successful saleswoman and play Idle Beauty Salon Tycoon free online on KibaGames!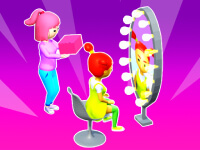 Idle Beauty Salon Tycoon
Originalname:
Game Hits:
0
Online since:
08.
05. 2023
Developer: