Hurakan City Driver HD
Approved for all ages
| | | |
| --- | --- | --- |
| Fahren: WASD / Nitro: "F" / Slow Motion: "G" / Kamera: "C" | | |
Hurakan City Driver HD - Experience dynamics in a supercar!
Hurakan City Driver HD is an exciting racing game in which you'll be able to cruise through the city in a Lambo and complete a variety of tasks.
Drive through the city and complete individual missions that will bring you money to customize your car or buy a completely new one. While you drive freely through the city, you'll have two driving modes at your disposal: the race mode and the drift mode. You can change these driving styles at any time while driving. In race mode, your car has more grip and is designed for speed. In drift mode, you'll find it easier to drift around corners to score points.
Controls: WASD or arrow keys. With F you can ignite a nitro booster and with G you can call up the slow motion view. With C you change the camera setting if necessary.
The tasks are immediately integrated into the world. For example, you have to drive through one of the task gates at a certain speed or jump over a jump through one of the gates to earn money.
More fast racing games with great stunts
If you liked Hurakan City Driver HD, why not play Hard Crash Car Stunts?
Experience new driving fun in 3D and play Hurakan City Driver HD free online on KibaGames!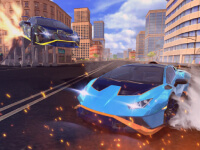 Hurakan City Driver HD
Originalname:
Game Hits:
0
Online since:
08.
12. 2022
Developer: