Hover Skirt
Approved for Ages 6+
Hover Skirt - Hover with the flying skirt!
Hover Skirt is a fun platform game where you make your character's magic skirt grow longer and longer and collect diamonds while floating.
Use your character's enchanted skirt to hover as long as possible and collect lots of diamonds on the course in front of you. Be careful not to get caught in the saw blades on the path in front of you and choose at gates to lengthen your skirt or change the color of your top or hairstyle. If you hold down your finger or the mouse button, you'll float like Mary Poppins, but your skirt will get shorter and shorter. If the skirt is too short, your figure will fall down. If you tap, your character will try to hover at a height to get over a precipice. Pay attention to your hover skirt here as well. With 5000 diamonds you can then unlock a skin for your hair, top or skirt.
More quick minigames
If you liked Hover Skirt, then play Mob Control.
Fly like Mary Poppins now and play Hover Skirt free online on KibaGames!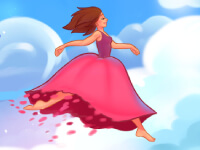 Hover Skirt
Originalname:
Game Hits:
0
Online since:
04.
04. 2023
Developer: